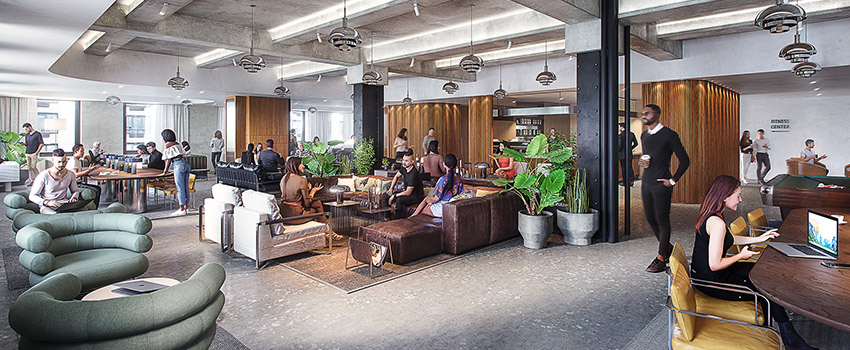 This time we had the opportunity to talk to Azeez Bakare, creative director and 3D visualist, about his personal tips for creating photorealistic interior renderings and concepts and about one of his latest projects, the EQ Office 1740 Broadway Project (designed by INC Architecture).
The visualization studio Azeez Bakare Studios from Miami creates high-quality visualizations and offers state of the art photography, videography as well as 3D Rendering and Design for its clients.
We would like to thank Azeez for taking his time to tell his tips and strategies around his project and for sharing interesting insights into his daily workflows. Please enjoy the following project description from our friend Azeez Barake:
1740 Broadway project – 3D visualized storytelling with photorealistic interior renderings
The 1740 Broadway project is a co-working "Office Space for lease" project. The tenant-only club is designed for members to meet, work, and relax. The building is 26 stories tall, but our areas for the visualization include floor 1, 2, 12, 13, and the exterior — Overall, the project consists of a Lobby, Restaurant, Mudspace, and more.
Our main goal for the project was to showcase how beautiful the space is, and how beautiful it can become through the usage of our 3D Visualization storytelling. A secondary goal was to help them visualize the spaces for lease to support their marketing efforts for the building.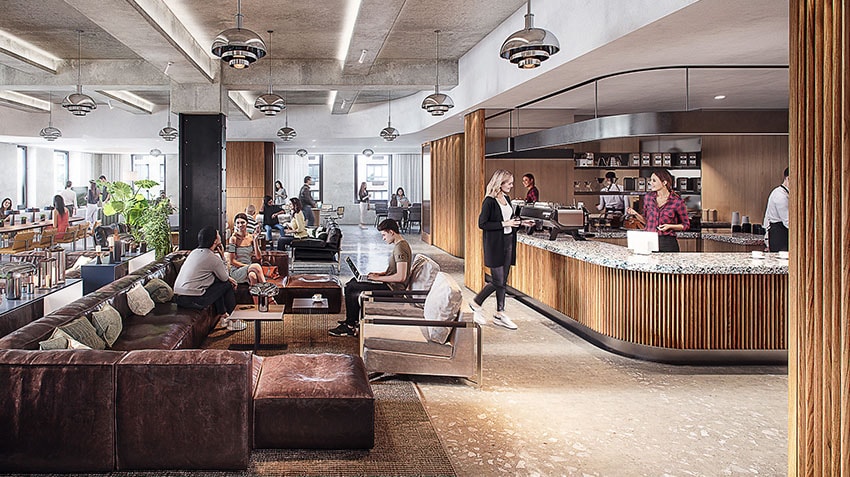 Broadway interior project rendering | Azeez Bakare Studios
The most important thing for me when planning scene layout and composition is just figuring it out at the beginning to the most complete level possible! Many times a project begins from scratch with no vision of what is desired until it is too late. Many projects should take the site and natural elements into consideration before starting the visualization part.
Keeping the big picture in view
I feel that one strength of visualization is that we have the ability to expose ourselves to many possibilities before any actual composition begins. If we can understand our problem to a higher level, we can come up with higher quality solutions. After understanding the project, we can then place ourselves within the 3D site as if we are actually there to think of compositions that will tell a compelling story.
Our most used applications are 3ds Max, Corona Renderer, Adobe Acrobat and Adobe Photoshop. A few of the key features I am personally using are some of the most simple features available. For example, I love using the clay viewport mode in 3ds Max. It really allows me to see geometry in a clear sense. This really helps me get an understanding of the space. I also enjoy using the Fade feature in Adobe Photoshop. I learned this painting technique from my first 3D Visualization position in Washington, DC many years ago.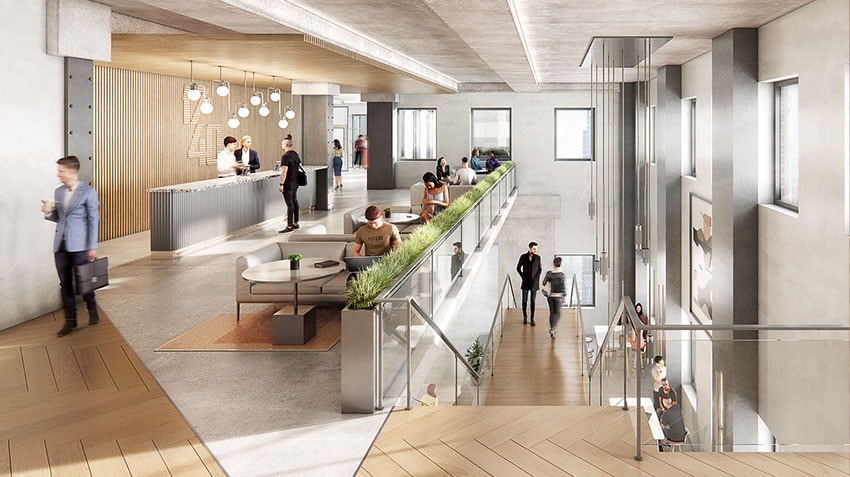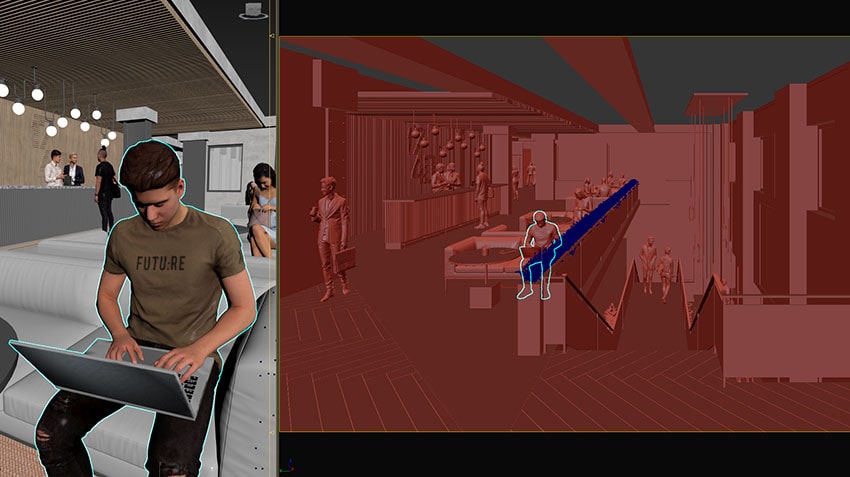 Broadway interior project staircase photorealistic interior rendering and viewport comparison | Azeez Bakare Studios
The focus point of this project was to showcase how people can utilize the various spaces of this project. It is a co-working space and we really needed to import a human element within the space to make the space usage believable. First we decided to finish the design of the spaces because with this project we assisted with both the design and the actual 3D visualization of the finalized space. Step 1 was helping finalize the design. That was the most important cornerstone so we could play off of the design when determining the order of operations for the people. We needed a static and confirmed design to visualize the many functions of the co-working spaces.
Using 3D People to bring live into architecture concepts and photorealistic interior renderings
In the past, I have always integrated people taken from either street photography or studio photography. The struggle and time investment always went into painting and blending the people into the scene with strong regards to lighting and shadows. The main benefit for us with using the 3D People is that we treat the people as geometry within the space — so our lighting conditions are much more consistent with the scene. There is still some blending being done in post, but many tasks like creating realistic reflections and shadows are much easier to accomplish using the Renderpeople set.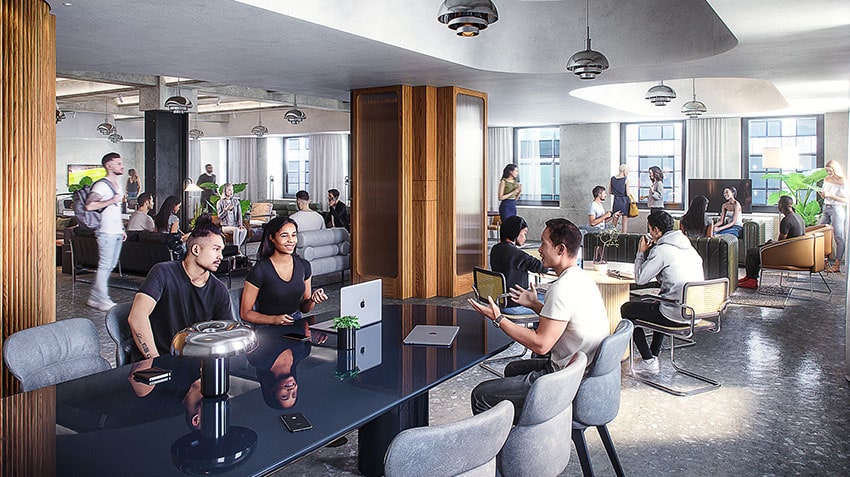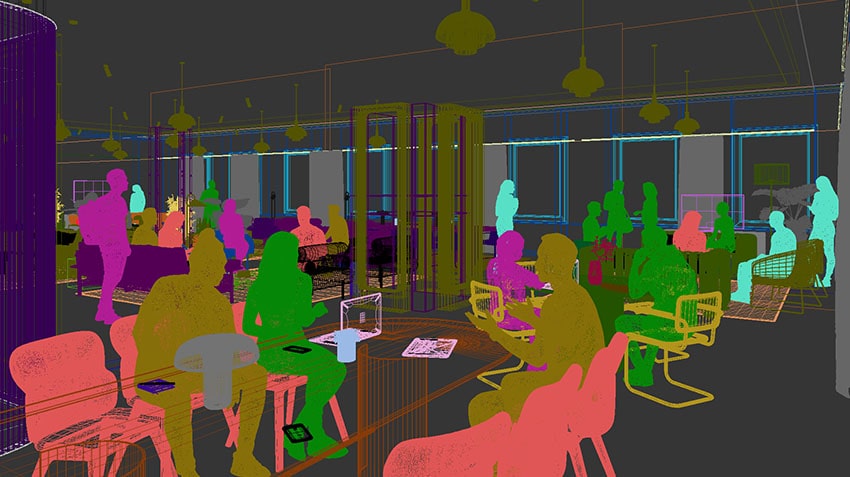 Broadway project seating area rendering and viewport comparison | Azeez Bakare Studios
3 workflow tips for creating photorealistic interior renderings and stunning architecture concepts
The top three elements for our workflow are
1) Dreaming —
We must think of how to solve the client's problem while also thinking of the best opportunity for the visualization.
2) Believing —
We have to communicate the opportunity on paper, which means we require and deliver markups and request markups to help bring the idea to reality.
3) Execution —
This is bringing together all of the skills to the table to making everything a physical reality.
Secret time saving trick: A schedule with expectations. This is the best trick for saving time and it allows everyone on the team to have a similar set of expectations. This makes room for everyone to focus on their specific tasks. Everyone is in unison and a harmonious project comes to life (or at least it makes it more possible).
---
About Azeez Bakare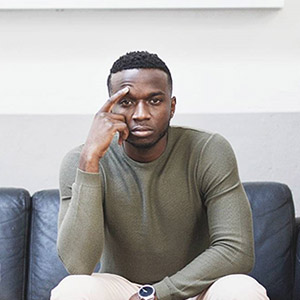 Portrait of Azeez Bakare


www.azeezbakare.com | LinkedIn | Instagram
Azeez Bakare is a 3D Artist, Photographer, and Videographer who helps firms, agencies, developers, and solopreneurs translate their ideas into high-quality visualization. Spending over 7 years in the industry, Azeez knows that quality in creating photorealistic interior renderings matters. Azeez secured a lead role at top Architecture/Engineering firm, HOK, and 3D visualist position with emmy-award winning agency, DBOX.