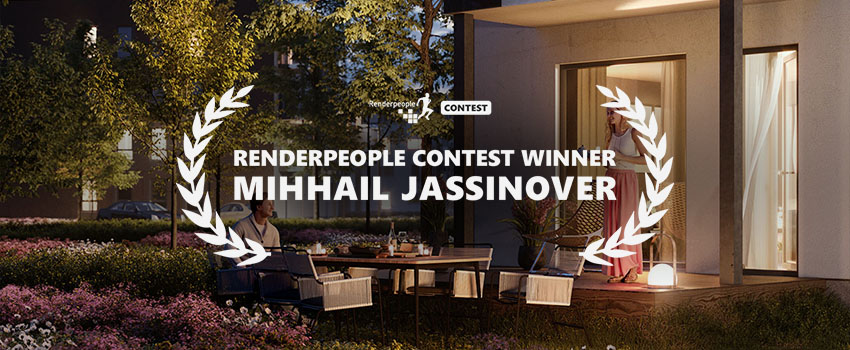 After starting our Renderpeople Contest in August we have received many stunning renderings and artworks from various talented artists. We have been looking for 3D Renderings which put our 3D People models into the spotlight as protagonist of their little stories. Seeing so many of our models as main actors of such visualizations has been amazing. The whole team here at Renderpeople wants to say "THANK YOU" for each and every submission through the last couple of weeks.
The one artwork that stood out and caught us from the beginning was the submitted 3D Rendering from Mihhail Jassinover. The visual style of our Renderpeople models in this exterior garden scene as well as the whole presentation and setup in general creates a highly appealing and believable image. We really like the way Mihhail added fine details to make it such a lifelike rendering.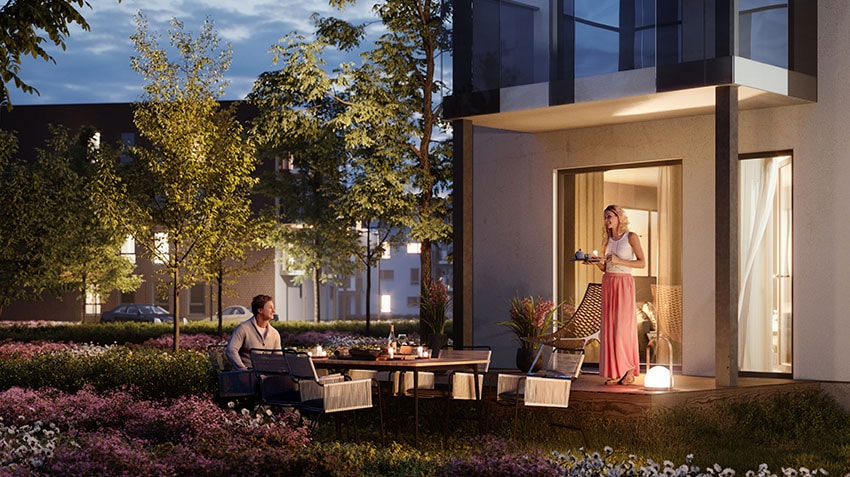 Renderpeople Contest Submission | Exterior Garden Scene Rendering | Mihhail Jassinover | Yellow Studio
3ds Max | Corona Renderer | Photoshop
In the following interview Mihhail shares a few insights around his project and his approach to create such a stunning 3D Rendering.
Renderpeople Contest Winner Interview – Mihhail Jassinover:
Hi Mihhail, thanks for joining us! To get started, please share some general information about your 3D visualization project.
This is a project for real estate developers sales and marketing campaign. The aim was to show pleasant suburban living – a nice quiet district close to nature.
Your well thought-out concept and your style have inspired us. Which aspects do you focus on to in your compositions?
It the most of the cases our customer gives us an emotional brief with the list of objects he wants to feature on the layout. We pay special attention to the whole scene we want it to look natural and photorealistic. Using classical architectural photo and illustration rules, we work a lot on the light set up and materials.
Which applications and tools do you use to create images with this quality?
Basically for renderings, we use 3ds Max, RailClone, Forest, Corona and some other plugins occasionally. Assets of obtained 3D elements from our library. All purchased models that we use we are upgrading and optimizing for our needs and are ready to use. RailClone helps us to optimize the scene to speed up autosaves and work faster on the scene.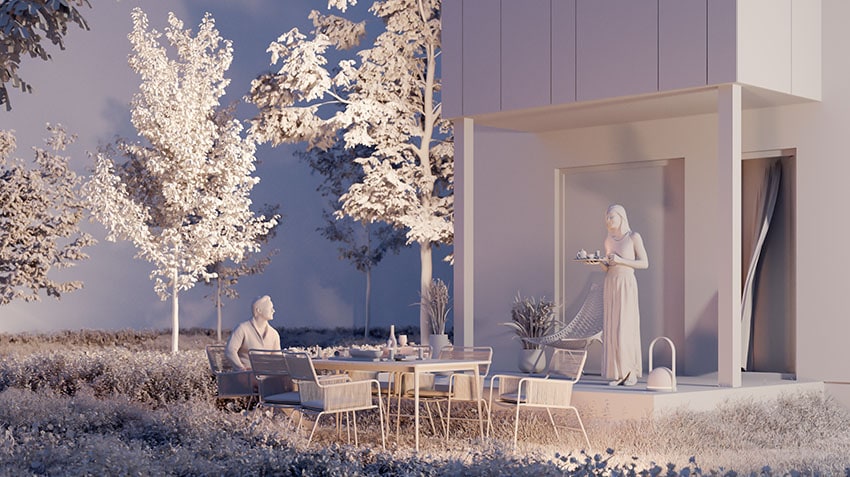 Exterior Garden Scene Clay Visualization | Mihhail Jassinover | Yellow Studio
What has been the most important cornerstone for this project and how long did you work on the visual concept?
For this picture, the customer wanted to have a cozy evening view with people spending their time outside in the garden. The composition works as we were lightening key elements that build the composition. It took a day to study source materials and a couple of days for the brainstorming with the artists team and to collect references and assets.
What are your top workflow tips, when it comes to creating visualizations like this one you submitted for the Renderpeople Contest?
Prepare the mood board, optimize assets and materials and don't be afraid to change the plan during the process if the artistic result needs more effort and experiment.
How did you decide which 3D People models you would like to use in your Renderpeople Contest scene and how important are digital humans for your general workflow?
It's hard to estimate the importance of people in renderings. Architectural renderings we produce are mostly used for marketing campaigns which means it shall aim people emotions. Potential customers, who are considering buying property shall see himself on the picture so 3D People shall look realistic and proportional. We have tried to use 2D People by adding 2D cutouts on the post production stage, but it didn't work out well for this scene. So we've changed it to 3D People.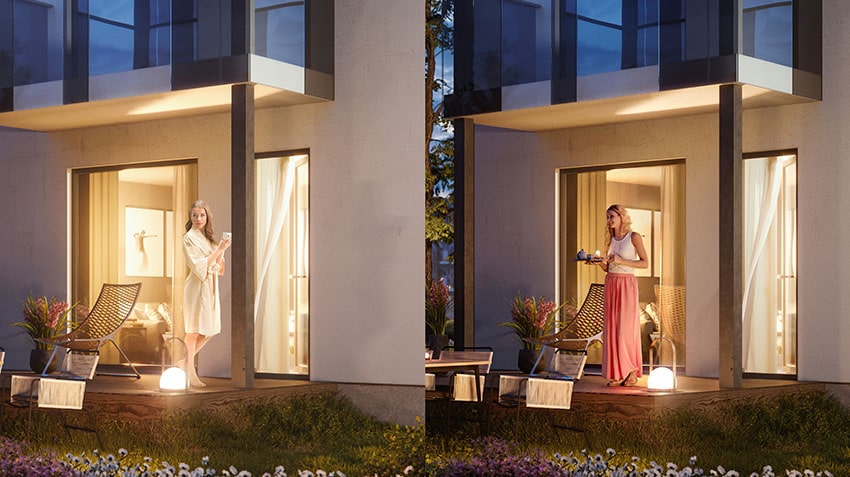 Comparison between 2D Cutout Figure and Renderpeople Model
Do you have one little advice you might want to share with the community?
Never stop learning and exploring new things. Work on your artistic education.
"Love your job and keep rendering :)"
---
About Mihhail Jassinover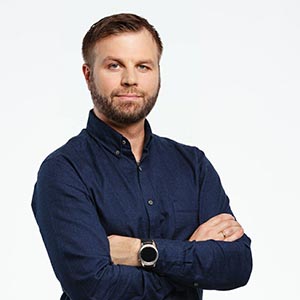 Portrait of Mihhail Jassinover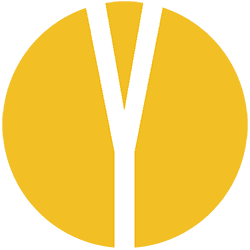 Yellow Studio | Behance | LinkedIn | Facebook | Instagram
Mihhail Jassinover is CEO and art director of Yellow Studio an Architectural CGI and Animation studio based in Tallinn, Estonia. With over 10 years of experience, we help our customers – architectural bureaus, real estate agencies and advertising companies – to spread their ideas the most compelling way by speaking the visual language of high-quality photorealistic images, animations and VR.