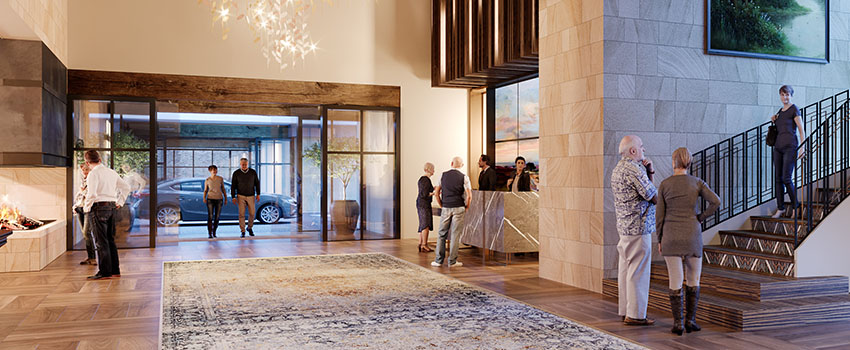 Last week the Australian Archviz studio Virtual Ideas presented a stunning 3D animation for the Waterbrook Bowral Retirement Resort. With their amazing video they have set a new benchmark in Archviz, so we asked them about how they approached and realized the project.
In the following article they share interesting thoughts, guidelines and tips around the creation of their complex video project, which involved planning and composing of many different 3D rendered videos as well as the integration of Renderpeople's Animated 3D People into their Arch-viz scenes.
I would like to thank Grant Kolln, Director of Virtual Ideas, as well as Rick Mansfield and Dominic Ballard for contributing to our blog and sharing insights into their Waterbrook Bowral project.

Waterbrook Bowral Video Presentation | Virtual Ideas | Vimeo Video
Please enjoy the following story from our friends at Virtual Ideas:
The "Waterbrook Bowral" Project – Retirement just got exciting!
We collaborated with a long standing client on this project. We had initially gone through a design development process working up a suite of still renders with the client and the project interior designer. The renders assisted in shaping the look and feel of the project, as well as giving the client the first stage of marketing imagery to start selling the story of their unique product – that being a retirement resort.
The marketing video and a number of subsequent still renders followed once the client was able to use this first stage of media to get the project investors on board from a financing point of view!
The goal of the video was to strike an emotional connection with our client's purchasers who are higher net worth seniors who are at a stage of their lives where they are perhaps getting too old to worry about maintaining their established family homes, but who are also reluctant to give up the standard of living they are accustomed to. They also have a strong sense of pride in their homes and community they live in, so we needed to capture this emotion.
"We wanted these people to instantly feel like Waterbrook Bowral could be their next 'home'."
Approaching Scene Layout, Composition and Story-boarding
We do not tend to storyboard our films in a traditional static form, as we feel that our clients can sometimes get too caught up looking at a story board as a series of stills and this often struggles to communicate the movement and pacing that we can better achieve through an edit and wireframe animation (animatic).
For this project, the idea and copy written script came first, and from this, we cut together an early edit/animatic.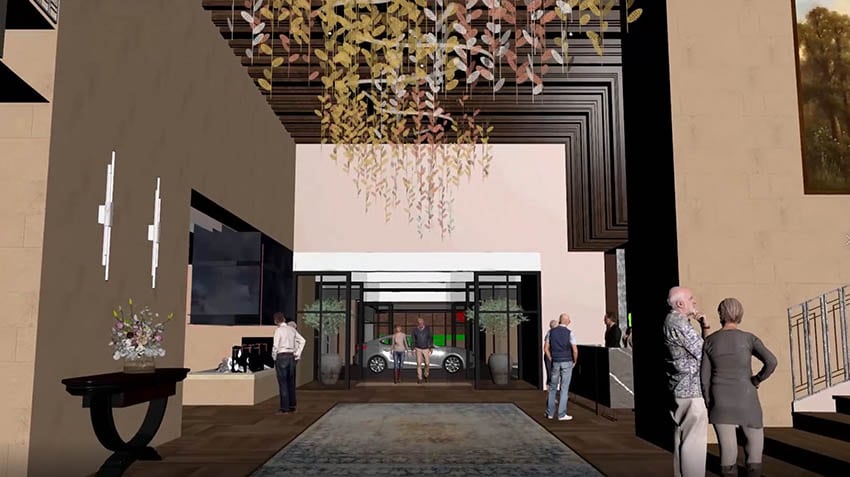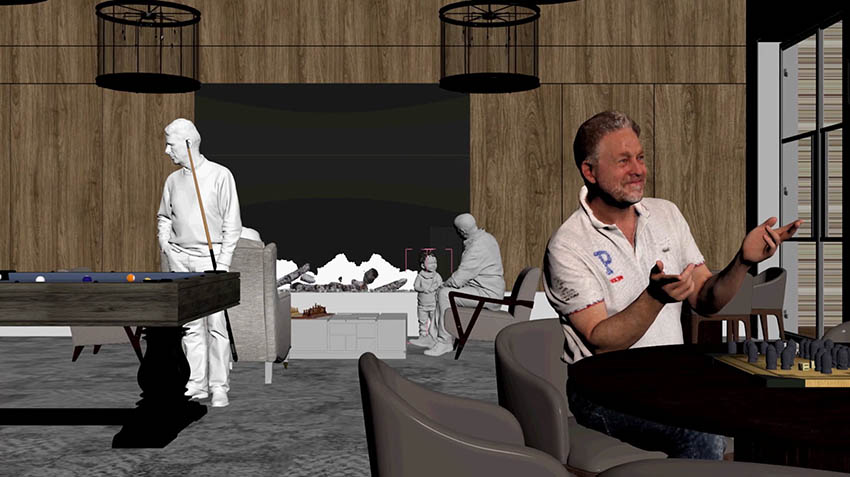 3D viewport concept images showing 3D image composition as well as asset and 3D People placement.
From 3D Concept to Production using 3D People for Videos:
As our approach was a slight departure from a traditional animated flythrough our client was used to seeing, we still had to sell our concept to the client through a fairly developed animatic and edit before we got full commitment to proceed.
When they started to see some of our animation clips upgrading from wireframe to fully developed scenes, the client was all-in.



Comparison between 3D viewport concept images and final production Rendering.
We were also working from a very well developed 3D model that had been worked-up through creating the initial still renders, so it was easier to take this approach knowing we could easily drop a camera into a scene and start exploring.
With regards to composition, this is always a bit of a client/artist balancing act. The client tends to want to see everything in one shot and the artist always wants to find the most creative angles. In this case, we just picked our battles and fought hard for shots we really believed in and remained open to improving shots if we thought something wasn't working despite initially feeling it was the best angle.
Using 3D People for Videos – Creating a believable story:
The 3D People selection was critical to creating a story and a sense of relatability to the spaces we were visualizing.
It was very fortunate that Renderpeople decided to expand their library of 3D Scanned seniors not long before we started this project, as they were quite critical to satisfying our clients' requirement for activation in certain spaces throughout the development.
The big collection of Elderly 3D People helped greatly to find the exact model we were looking for.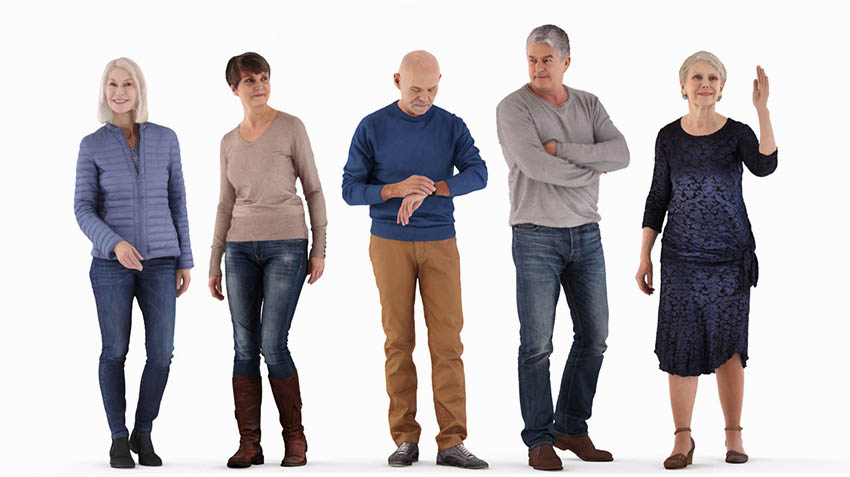 Selection of elderly 3D People by Renderpeople
We were also able to match the look and feel of the demographic of their residents with the 3D Models we were able to source, which was also very important to telling and selling the story.
Stay tuned for Part 2 of this interview.
---
About Virtual Ideas

virtualideas.com.au | Linkedin | Facebook | Instagram
Virtual Ideas are one of Australia's leading architectural visualization studios specializing in the design, creation and delivery of compelling 3D visualization content.