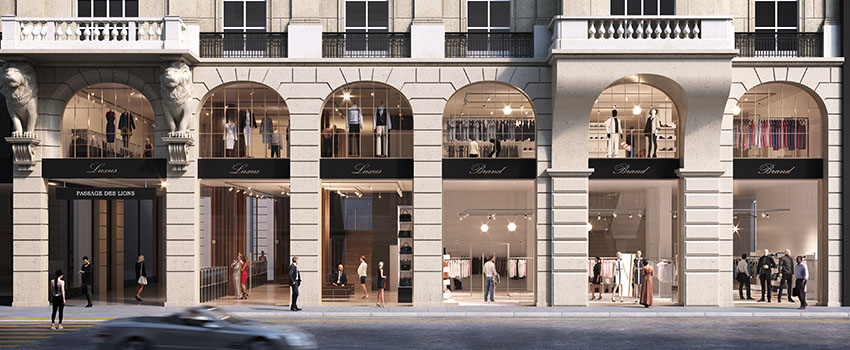 The believability and appeal of office and retail visualizations depends on how you plan and realize architectural scenes. If you want people to see your projects the way you intended, it is not good enough to consider the design, lighting and placement of objects only when creating the scene. Markus Kaufmann, founder of tridimens GmbH shared a few details around his recent projects and took his time to share a few tips on how he approaches new visualization projects.
Please enjoy the following article from Markus Kaufmann:
Working in the 3D visualization industry
My name is Markus Kaufmann founder and owner of tridimens GmbH in Lucerne, Switzerland. We are a small team (3-6 3D specialists) which are specialized in architectural visualizations as well as product visualizations. In more than 15 years we have created several thousand visualizations and over 100 animated films for architects, real estate marketers, product designers as well as industrial companies.

Interior Office Visualization | tridimens GmbH
This exterior and interior image we were allowed to create for our long-term client was meant to visualize vacant office and retail space for marketing in a new splendor, renovated and expanded style. The buildings were all already existing but in non-renovated condition and for this reason not suitable for classical photography.
Since our client offers business premises in the high-price segment, the demand on the visualization was also very high. The images should look high-priced and classy, the buildings should look freshly renovated and already busy. For this reason, we did not depict empty rooms, but already visualized a possible use. To generate this new and noble look we created the complete buildings as 3D models. However, since the buildings are old, we had to slightly age the facade of the exterior image to make it look more realistic.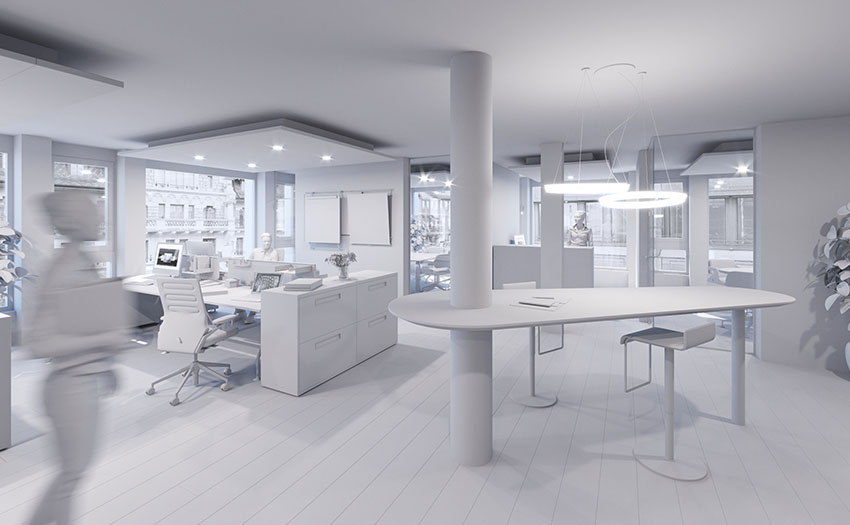 Interior Office Clay Rendering | tridimens GmbH
The images are used for marketing high-priced office and retail space. For this reason, the images had to present a touch of luxury but still depict the property being marketed well. While a detailed shot can be beautiful, it says little about the leasable space. That's why we often work with wide angle cameras indoors, here it's important to make sure that the camera is set so that the distortion on your sides is not too strong. With wide angle under 20mm this often becomes problematic. Moving the camera back behind the room wall with near clipping can counteract this somewhat.
Time Saver: Pick the tool set that fits your workflow
We at tridimens GmbH work with 3ds Max, Corona Render and of course Photoshop. Basically, we try to keep the quality of the visualizations as high as possible and only edit the images a tiny bit in Photoshop. A real time saver here is the Interactive Renderer from Corona. Lights and materials can be checked in real time with it, making them match up faster and better. Another useful tool is the Bloom and Glare setting in Corona Renderer. Lights look more realistic with glare active and images get a more premium look.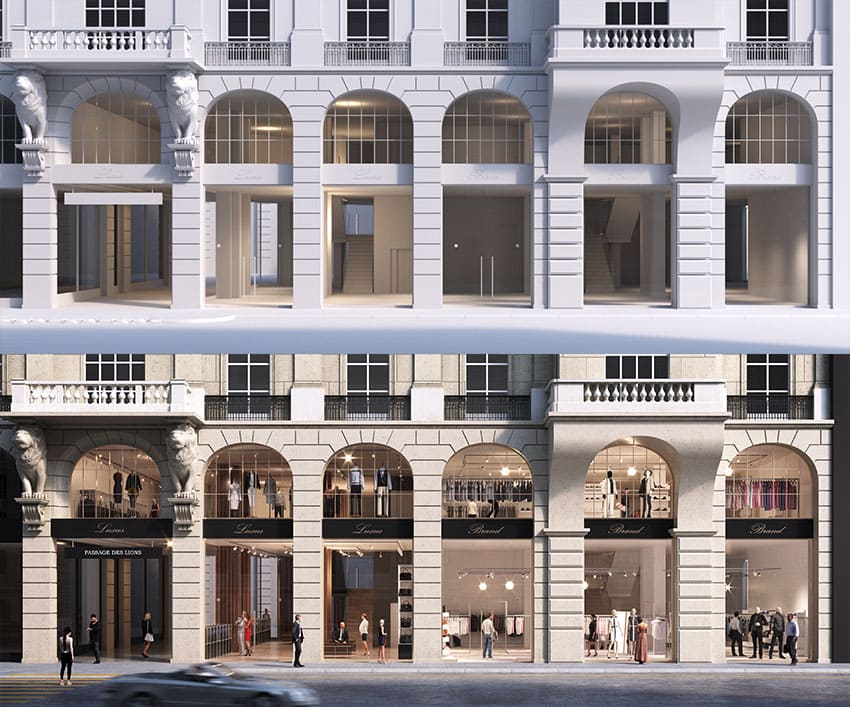 Shopping Mall Exterior Visualization Rendering Comparison | tridimens GmbH
For the exterior image, the difficulty was to realistically recreate the complex facade and present it in a new/fresh look without making the building look like a new construction. For this reason we used ambient occlusion and dirt maps to age the facade a bit.
Streamlining the visualization process for maximum efficiency
Basically, after placing the order, we discuss with the customer the requirements for the image. It is important to define for what the visualizations are used, what should be said with it and who is the viewer of the images. After that we start directly with the 3D construction in 3ds Max. As soon as we have built the first building draft we create clay renderings with our camera proposal.
Once this has been approved by the customer, we start furnishing the rooms. Here I think experience in architecture and interior design is of great advantage. Since we rarely receive a furniture proposal from our customers we design the interiors and create as a 2nd stage an already well elaborated 3D rendering which we send to the customer for review. After another 1-2 previews we then create the final image. Thanks to our many years of experience, we usually only have to make minor adjustments to the image at the customer's request.
3 workflow tips to speed up your process
• Discuss camera the viewpoint with customers early and have it approved. This allows you to concentrate on the visible details
• Older buildings in particular often have very elaborate facades with friezes, figures and ornaments. There is a great danger of getting lost in the details. For this reason, always model from the rough to the fine. Smaller details can be partially omitted as they are hardly visible in the final result.
• For larger projects with many millions of polygons we often work with proxy objects. This saves RAM, speeds up the viewport and saving. Thus, even with hundreds or thousands of high-poly objects can be worked effectively.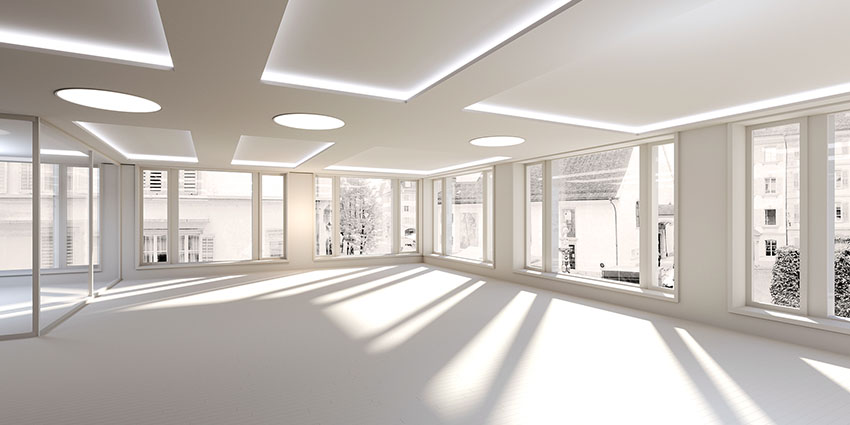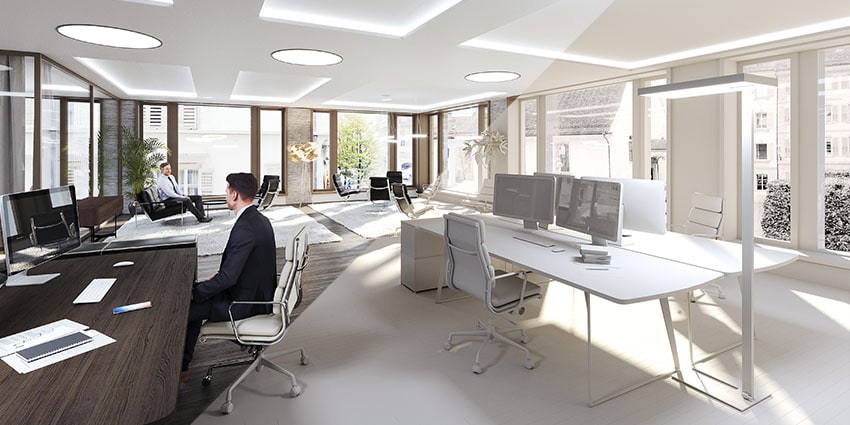 Interior Office Visualization Comparison | tridimens GmbH
Using 3D People to populate office visualizations and retail projects
For a few years now, we have been using practically only 3D People, as they save an enormous amount of time. Fortunately, thanks to really good 3D People from Renderpeople , the time-consuming insertion of 2D people in Photoshop is a thing of the past.
"In addition, typical 2D problems such as perspective, size ratio, lighting, reflections and shadows are no longer an issue with 3D People. A big relief."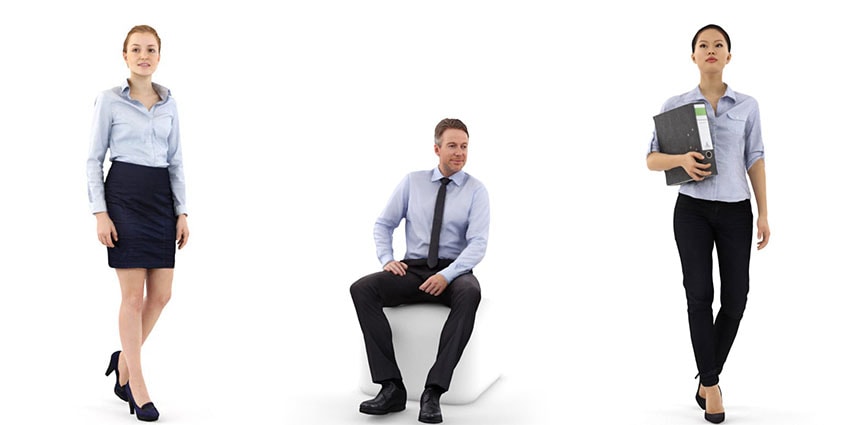 Renderpeople Business 3D People Selection
To realize these projects we have used several Business 3D People models of the Renderpeople library.
Final Tip – Keep things organized and always use reference materials!
Label materials and distribute all objects correctly on layers, so that objects can be switched on or off quickly. This helps with modeling, and speeds up interactive rendering enormously, since you only work with the elements that are needed in the current editing step.
For such conversion / renovation of office visualization projects, the data basis is often very poor (hardly any or only outdated plans available), as we often get to work before an architect even starts. For this reason, we have modeled a lot after photos from the customer or also Google Streetview, since the objects were sometimes too far away for a personal inspection.
---
About tridimens

Logo of tridimens
www.tridimens.ch | Vimeo | Facebook | YouTube
Behind tridimens stands a highly specialized team that has been working efficiently and customer-oriented in the field of architectural visualization, 3D animation and product visualization for more than 15 years. We always strive to present each 3D visualization in the best light. Perfection is our goal, aesthetics and quality our mission.