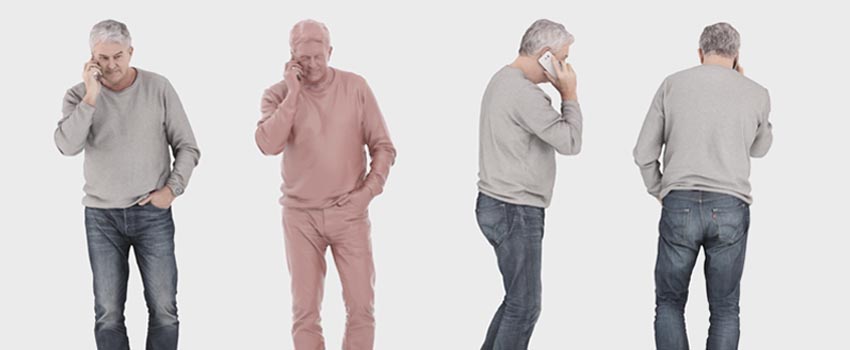 Creating one of our Posed People is a complex but very exciting process, especially in regards of used technology (respectively hardware and software). So we thought it would be a nice idea to give you a little insight into our 3D People production pipeline in form of this little Making Of video. Enjoy!
The essence of production
Since every single one of our digital 3D Models is based on a real human being's photogrammetry scan, the production starts with a photoshoot in our state of the art photogrammetry scanner, which – thanks to almost 200 Canon DSLR cameras – provides us with highly detailed and high resolution raw geometry and textures. From there we use this raw scan as a starting point for our geometry cleanup in ZBrush as well as the texture cleanup in Mari. Since our goal is to create digital 3D People that look as realistic and authentic as possible, this extra effort in post-production is vital for achieving the high level of quality that makes our 3D Posed People what they are.
It's all about the usability
Of course, for us it is very important that we deliver a ready to use product for all of our customers. For that reason, next to the creative preparation of each 3D model, one of the most important steps within our pipeline is the finishing process for every single software and render engine that we support. With that we guarantee that all of the pre-built materials, which come with our products, look as good and elaborate as possible, regardless of whether you're using V-Ray with 3ds Max or the native render engine with SketchUp.
Keep yourself up to date
We hope you have been enjoying the video and got a good impression of how our 3D People are being created. As always, please feel free to get in touch with us for further questions. And if you're interested, try to always keep your eyes wide open for any updates in our Renderpeople Online Shop, as we're releasing a bunch of new Renderpeople every week. For instance, how about Richard Posed 001 or other Richard models? You'll recognize this very nice and friendly guy if you have seen the Making Of.