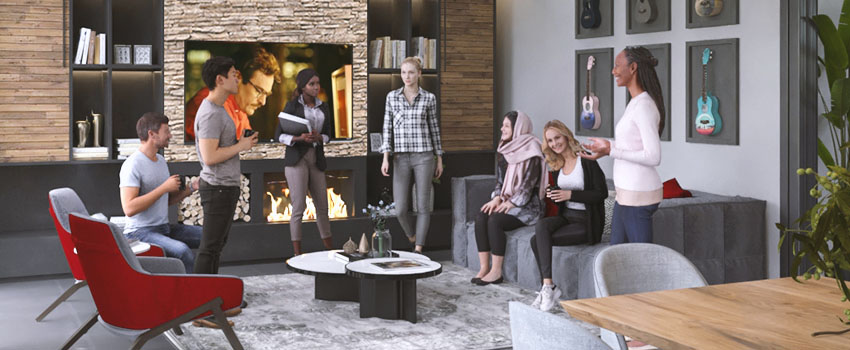 The architecture studio Schumetta Inc. from Malibu, CA. creates architectural designs in ArchiCAD, and provides property development analysis and project management services for its clients. By using ArchiCAD for creating accurate architecture plan and models including 3ds Max to visualize these CAD concepts creates a nice comparison between the two areas. Many thanks to Schumetta McLendon for contributing to our blog and sharing a few insights into her daily work as architectural designer.
In the following article she shares a few insights around her work as an architectural designer including use cases for Renderpeople 3D People models to populate her CAD concepts.
Please enjoy the following story from our friend Schumetta McLendon:
Concept and Re-Building of a Malibu Home:
This home is for a lovely family who, unfortunately, lost their previous home in the Malibu Fire of November 2018. The original house burned down, so we started from an empty lot. Los Angeles County allowed us to make the new house 10% larger without going through a lengthy approval process, which can take years. The owners wanted a home that felt like a modern cabin that took advantage of their views of the Santa Monica Mountains.
The main focus was creating an architectural style and interior layout that the client wanted while maintaining the guidelines for building approval from Los Angeles County.
Creating architectural plans and visualizing building concepts:
Schumetta uses different applications to create both the visualization and architectural planning for her projects:
• ArchiCAD – Creation of architectural plans
• 3ds Max – Rendering and visualizing of the exported CAD Model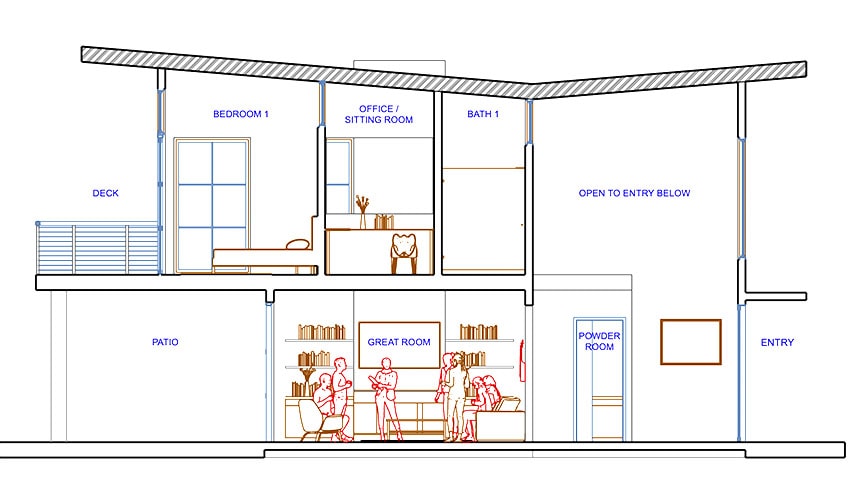 ArchiCAD Viewport Frontview of the new building plan | Schumetta Inc.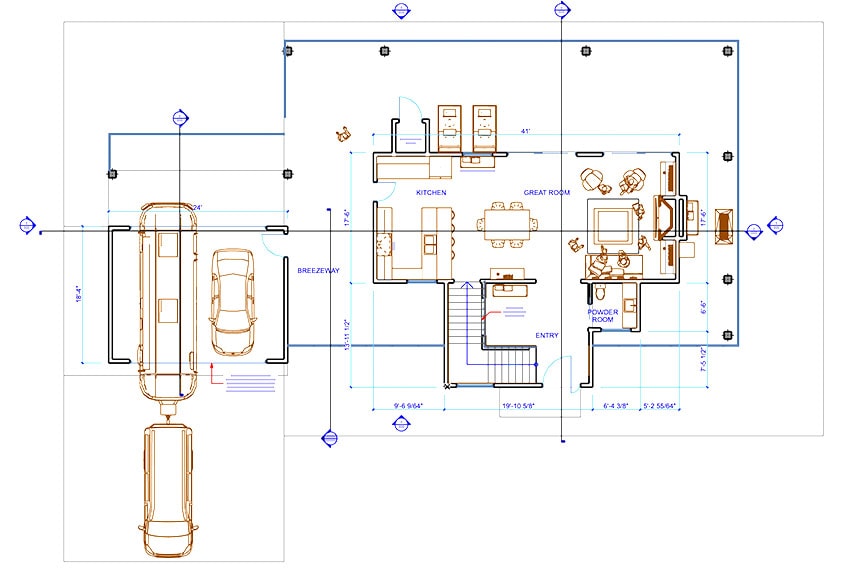 ArchiCAD Viewport Topview of the new building plan | Schumetta Inc.
Workflow tips for creating architectural projects
The most important workflow tip when it comes to cooperation is communication, especially when you're working with multiple consultants and engineers who are using multiple applications and file formats (PLN, DWG, 3DS, etc.). It's important that the team is notified of any changes from the client, government agencies, etc. so they can determine how it may affect their portion of the project.
Using layer names and measuring units that are consistent with your most frequent collaborators enables smoother file exchanges. It may take some time to get everything set up at the beginning of a project, but it is definitely worth it.
Creating file names, folders and hierarchies that are easily understood by new team members so they can find information quickly helps a lot throughout the process.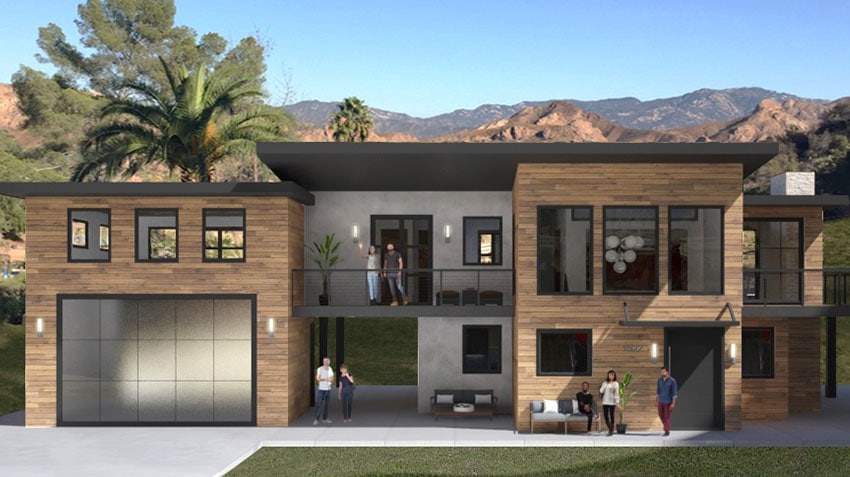 Exterior Rendering of the 3D visualized Malibu Home | Schumetta Inc.
Using 3D People models in ArchiCAD to populate building and architecture plans
People are extremely important. They help bring a project to life. Whenever I'm working on a project, I try to imagine the people who will be living there as I'm designing. I always try to find their Renderpeople "Doppelgängers" to include along with my custom made model. It's one way to show the client that you care about them are are thinking of them specifically.
3D People models are incorporated from the very beginning in schematic design in ARCHICAD. I use Renderpeople models throughout the process to help the client and government officials understand the size, scale and details in a project that aren't easily seen in basic plans. Renderpeople models also look great in floor plans and elevations and I will usually include them in my final submittal set for Building & Safety approvals.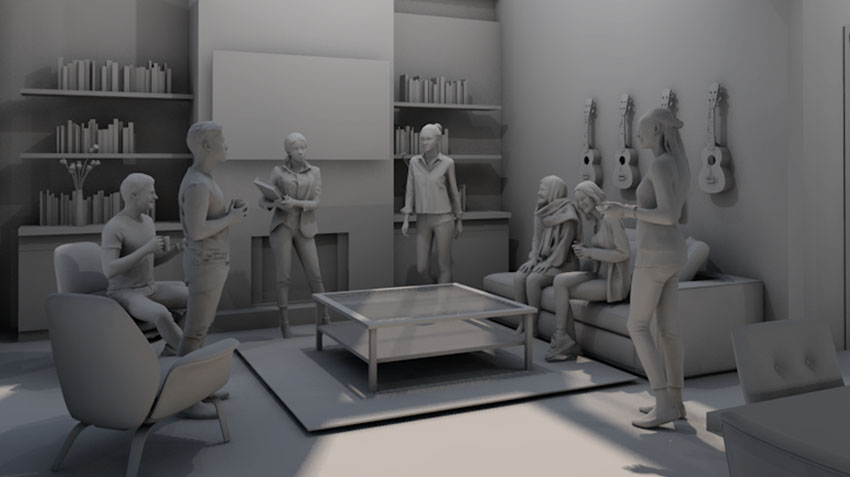 Interior Clay Rendering of a 3D visualized living room Malibu Home | Schumetta Inc.
"In this example, I've included 3D People based on my new interns. I asked them to choose their own models from the Renderpeople website. The resemblance is so similar that I started calling the interns by their Renderpeople names. haha!"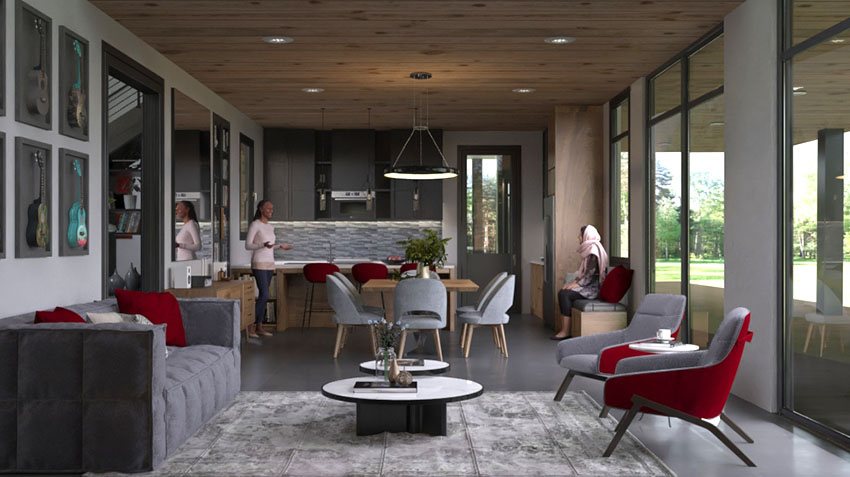 Interior Rendering of a 3D visualized Malibu Home | Schumetta Inc.
ARCHICAD has a built in Photo Rendering engine that allows you to create different types of sketches, white models and renderings and Renderpeople models work seamlessly with all of these options.
Renderpeople 3D People are also helpful for building contractors during construction. Seeing renderings with people models alongside the floor plans and elevations helps them to get a sense of scale and proportion. It's not just lines on a piece of paper.
---
About Schumetta McLendon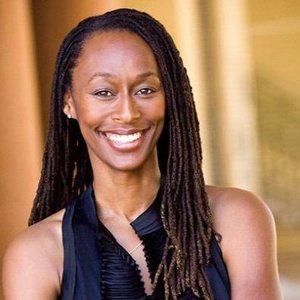 Portrait of Schumetta McLendon

www.schumetta.com | LinkedIn | Facebook | Twitter | Instagram
Schumetta McLendon began her design career as a Project Manager at Burdge & Associates Architects. She then went on to work with Scott Halley & Associates Construction to gain hands on experience in the construction industry. Prior to working in architecture, Schumetta held several positions at The Walt Disney Company in film & television casting, production and international corporate alliances. It is from this vantage point that she identifies with her clients' demanding schedules and their need for privacy.