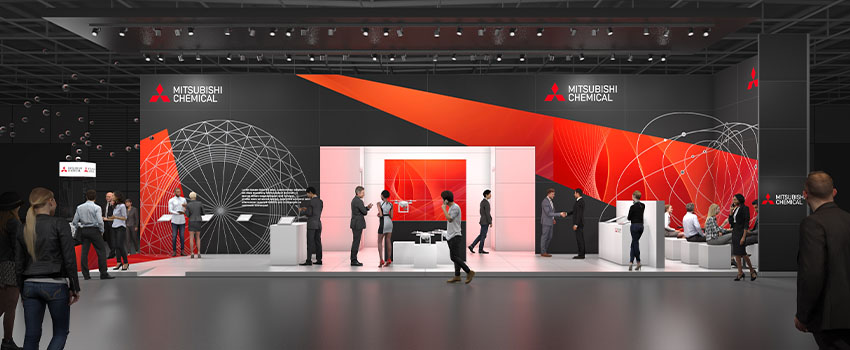 This time we had the opportunity to talk to Wim Goris, interior designer about his work in the trade fair industry and the challenges which come along in this competitive field. We would like to thank Wim for taking his time to share those amazing Expo-Stand and Artlantis visualizations with us and for giving us insight.
Please enjoy the following article about planning and creating a stand-design for Trade Fair events from our friend Wim Goris:
Working hands on as an expo designer
I design directly for exhibitioners, or in cooperation with agencies, stand builders or other designers. The images shown in this article have been created with Artlantis (this software works flawless with every CAD software).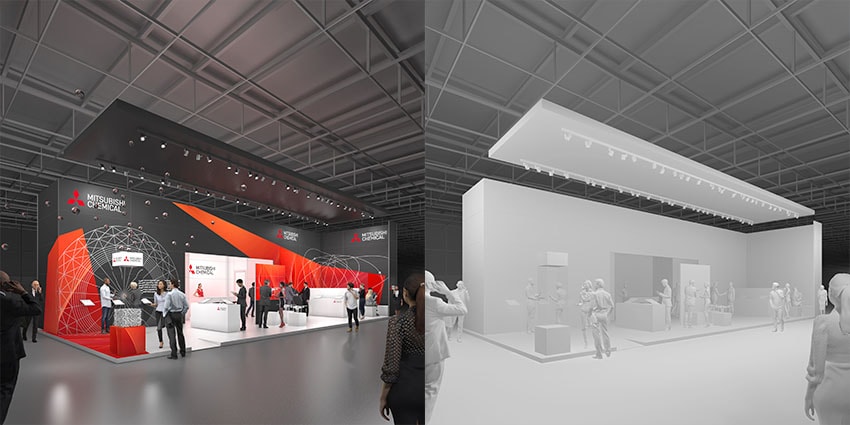 Artlantis Trade Fair Visualization Render Comparision | Wim Goris – cladbvba@telenet.be
Every new assignment is different. A good exhibition stand is interactive, has a professional appearance and communicate with visitors, it is a machine that has to run at full speed during the exhibition. Unlike online marketing tools, an exhibition stand has the great advantage of live interaction (and due to the corona pandemic we realize how much we miss this). Through live demonstrations visitors experience new products, a 15 minutes face to face talk has much more result than a online meeting. The goal in every assignment is to deliver the exhibitors the best design possible to promote and show their products and their brand.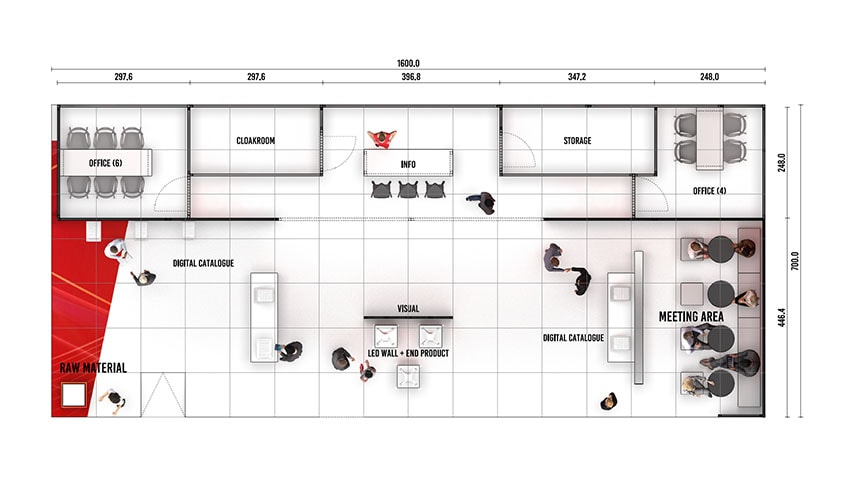 Trade Fair Top Down View Floor Plan | Wim Goris – cladbvba@telenet.be
When we have gone through the briefing together, I will start the prelimiary design sketches, in which the layout and all requirements of the exhibitioner. That happens in 2D and in 3D. I quickly switch to 3D render software, also while making the preliminary designs.
Designing Artlantis visualizations and presentation drafts and creating a visual guideline
The overall volume of my work depends on the customer's requirements, and the budget. I always strive for a clear and simple plan, with every function and/or product placed strategically in the correct place. At the same time I take into account the visual communication and the 'design' of the stand.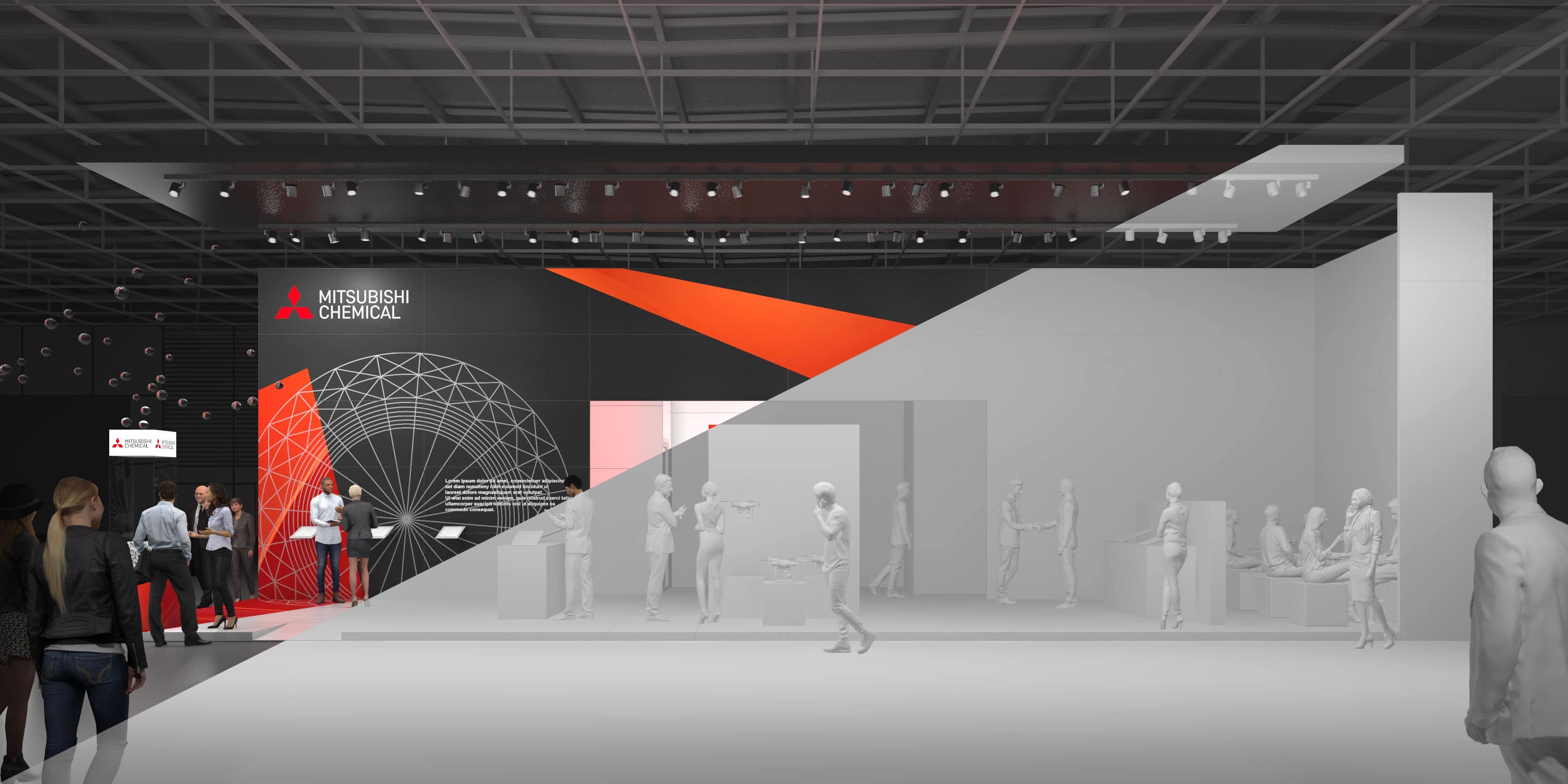 Artlantis Visualizations of an Trade Fair Stand Concept | Wim Goris – cladbvba@telenet.be
Choosing the right assets to fill the planned trade fair stands
High quality 3D models are very important, for sure. The design and presentation drawing comes alive, the clients see the correct proportions, they also feel the atmosphere of their project. It is important to have a lot of variety of 3D People models. Standing or walking, sitting and talking, business and casual people, I also use the Exhibition and Event 3D People for Artlantis.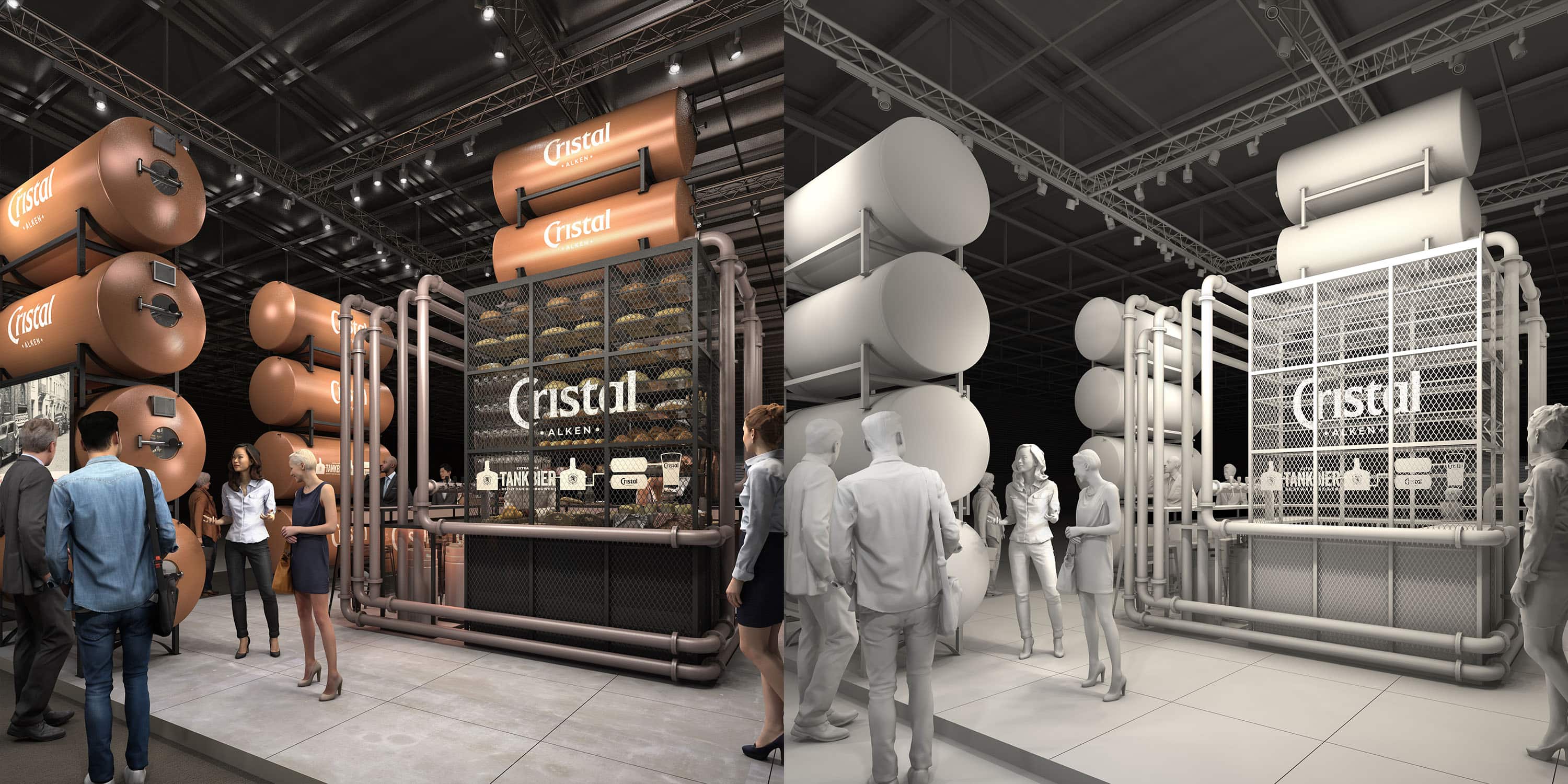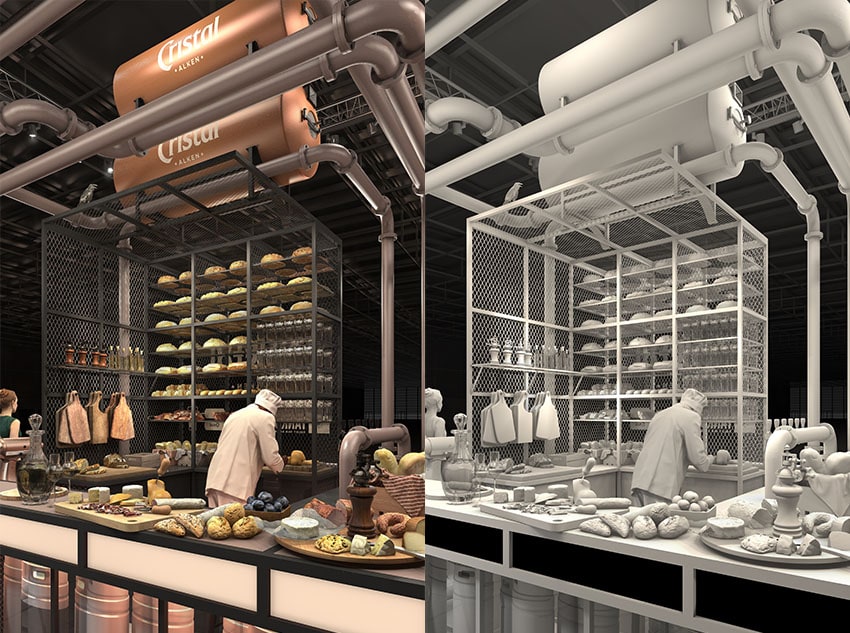 Artlantis Exposition Stand Design Clay Comparison | Wim Goris – cladbvba@telenet.be – real.space agency – www.realagency.eu
Workflow for using 3D People models for Artlantis Visualizations
They are very simple integrated. Renderpeople offer them as Artlantis objects, so all that I need to do is to Drag&Drop them in my scene. Renderpeople did all the hard work. Renderpeople already appears in the first design sketches for better communication with 3th parties (stand builder, agency, technicians, marketing,…). For the final presentation drawings the Renderpeople are placed 'strategicly': People are listening to a demonstration, someone is in conversation at the welcome desk, others are sitting and talking or show the circulation to a meeting room, for example. Creating a visual story is key to guide the viewers attention around the scene.
The designs and images are the result taking to account budget, timing and requirements. I use Renderpeople 3D People so often that I know them almost personally. :) That may be an exaggeration, but it helps to know what models fit perfect on a chair, while other models are more suitable for a bench. One good tip for Artlantis users to work faster: Renderpeople models are high quality, switching to 'OpenGL display' will save you a lot of time. Work with 'Object- and Light Groups' and turn them ON/OFF for a faster workflow.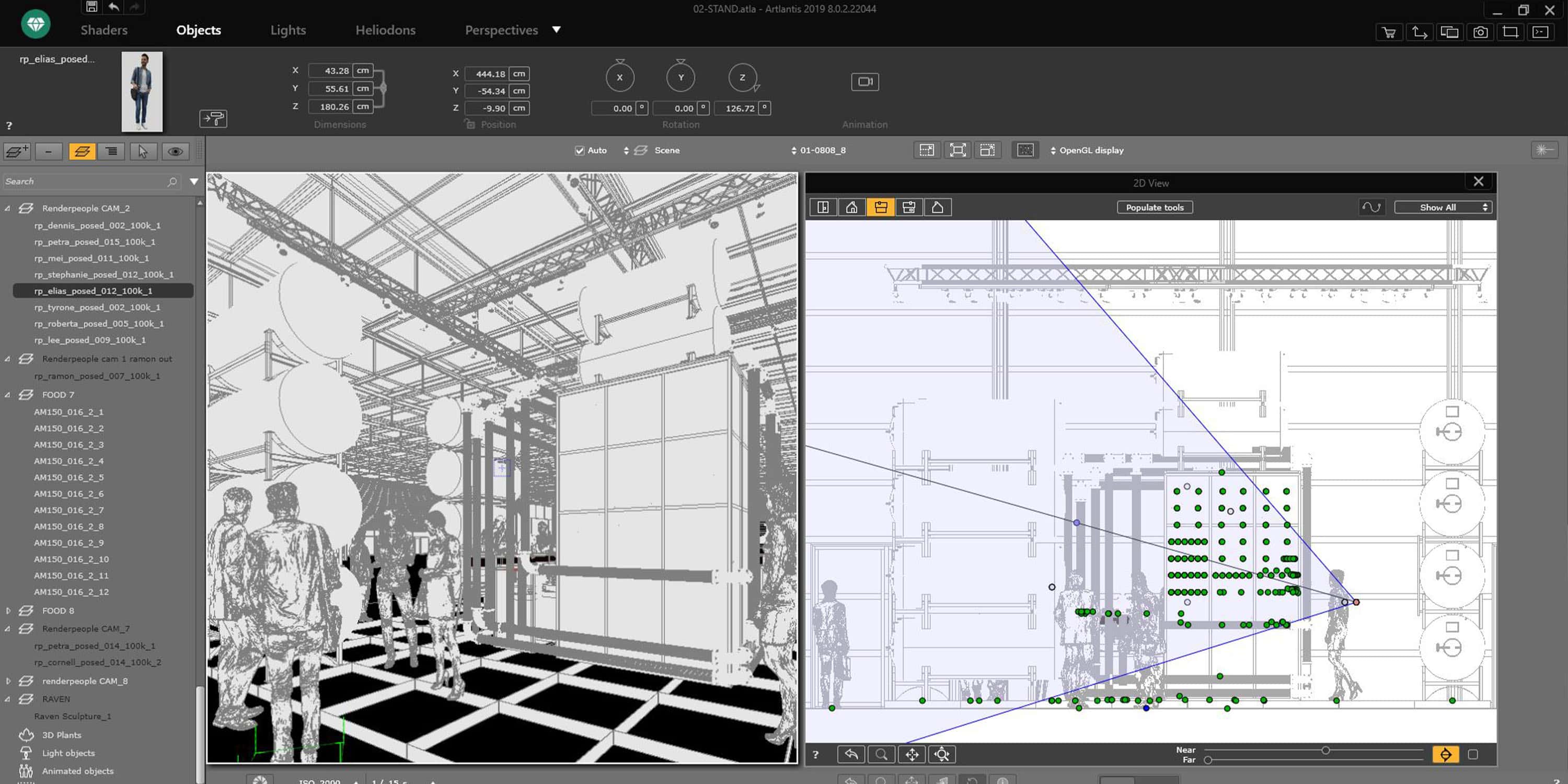 Artlantis Visualization Viewport Scrennshot of a Stand Design | Wim Goris
Offering a stand design is always a competition and a good presentation is necessary to win those competitions. Invest in good 3D models, it pays back itself, without a good presentation it is harder, almost impossible to 'sell the project' and much more difficult to win competitions. Good models make the difference between an 'OK' presentation or a 'WOW-SHOW'. Most of the designs you see in this article have been chosen by the jury. We win competitions through good designs and presentations, but also thanks to the intense consultation with all the parties involved. The designer is part of a team.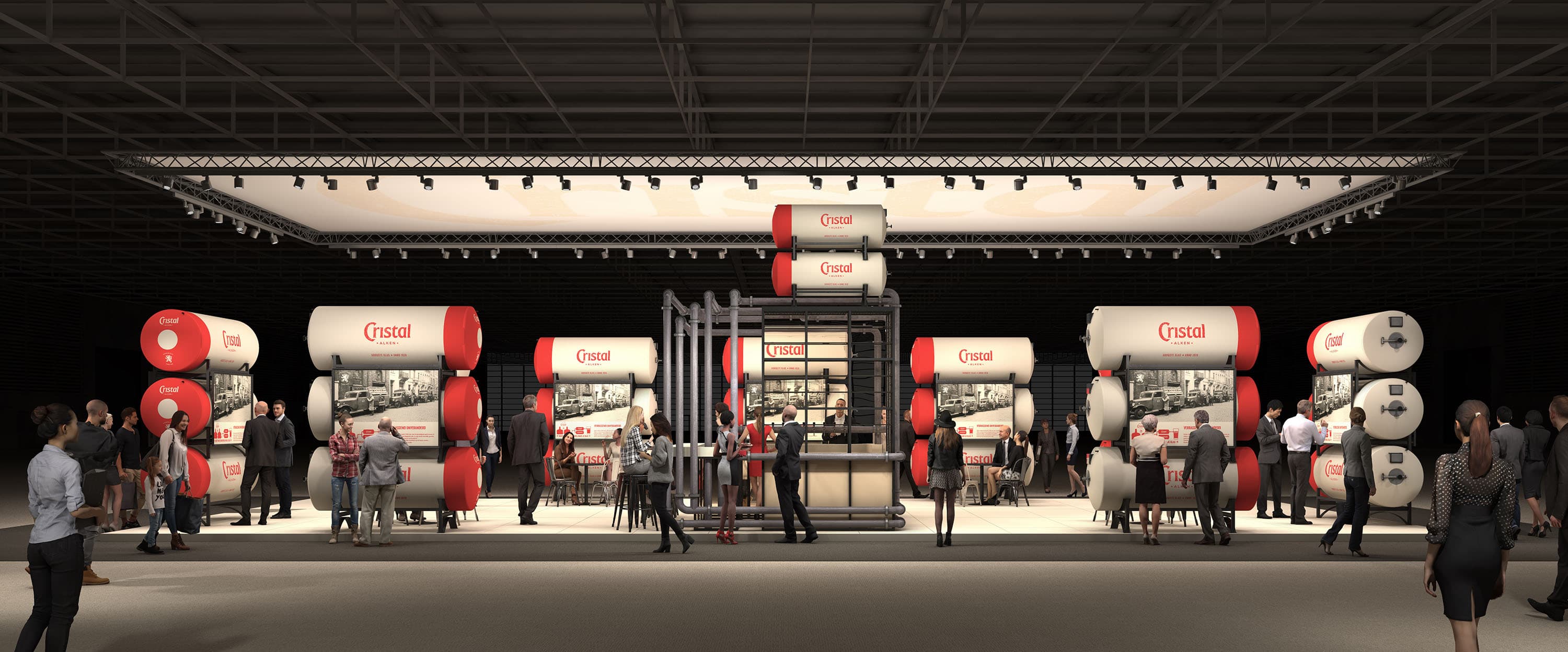 Artlantis Exposition Stand Overview Rendering | Wim Goris – cladbvba@telenet.be – real.space agency – www.realagency.eu
About Wim Goris
Wim Goris creates stand designs for trade fairs with Artlantis.