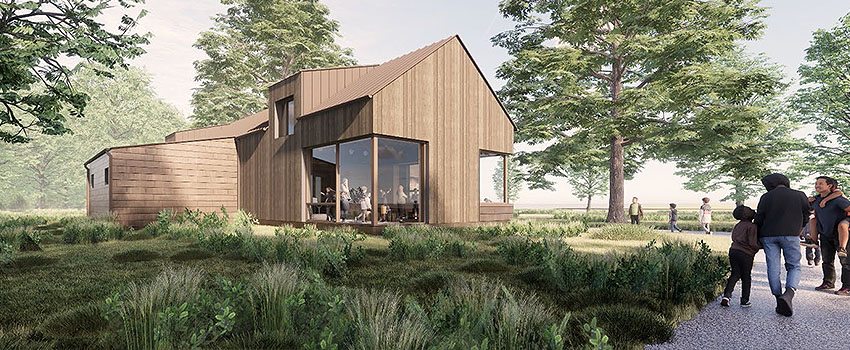 Every architectural visualization is a challenge in itself. For some projects, fidelity to style and detail is particularly important, while for others, authenticity in harmony with the surrounding environment is key. The talented team at Lake|Flato combines these components and brings the environmental aspect and the sustainability of the planned buildings even more into their Enscape renderings. For that reason, we are very happy to share the following guest post with you. Enjoy!
About Lake|Flato and Creating Enscape Visualizations
Award-winning architecture firm designs beautiful environmental learning center to meet high-performance Passive House standards. The team uses various design technologies, from energy and daylight simulation engines to real-time visualization and VR to achieve optimal results and enhance client communications. The visualization workflow includes the use of Renderpeople's 3D People to better convey the use and scale of space, as well as properly depict the diversity of people who will benefit from the services offered by the facility.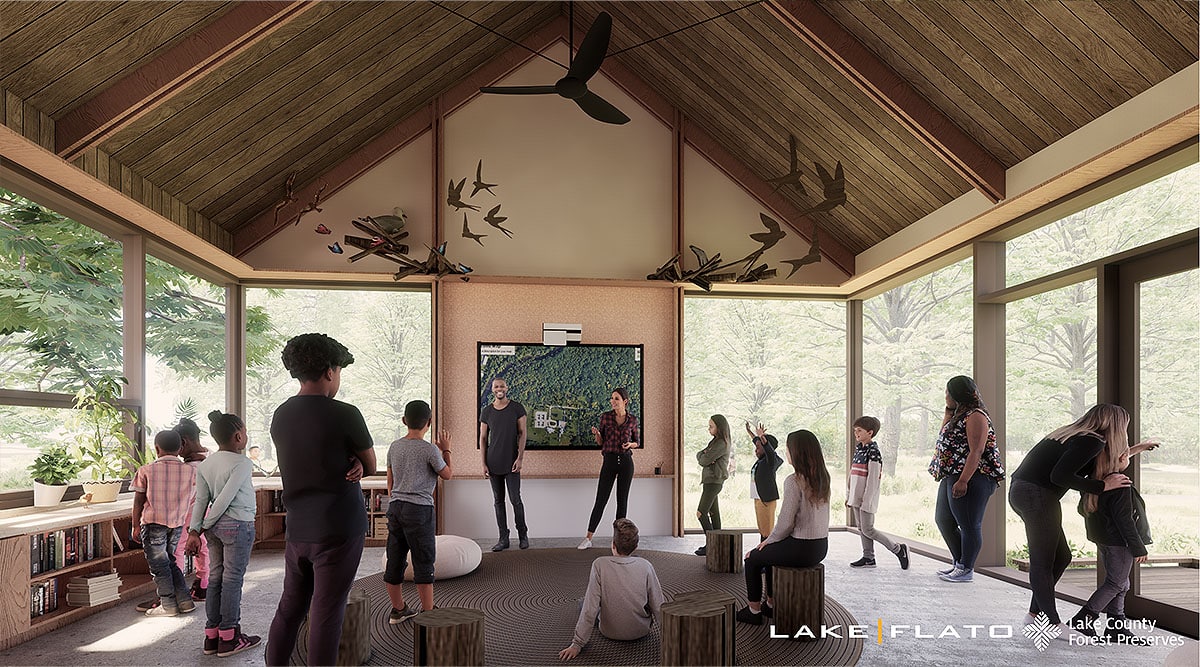 Facility Classroom Interior Visualization
Project Highlights – Ryerson Woods Education Center
Nestled adjacent to the Flatwoods along the Des Plaines River, the Ryerson Woods Education Center will act as a beacon of both ecological education and environmental stewardship for the residents of Lake County and the region at large. In addition to supporting educational programs in partnership with local schools and community organizations, the Net-Zero energy building will serve as a trailhead and launching point into "the resource" of the surrounding forest preserve, which includes one of the only remaining quality Flatwoods ecotones in Northern Illinois. The story of the preservation of this fragile ecosystem will be told by the building through the active demonstration of water conservation, energy production, and material resiliency. The facility is on track to be Passive House Source Zero Energy certified and will use 90% less energy than code-compliant construction.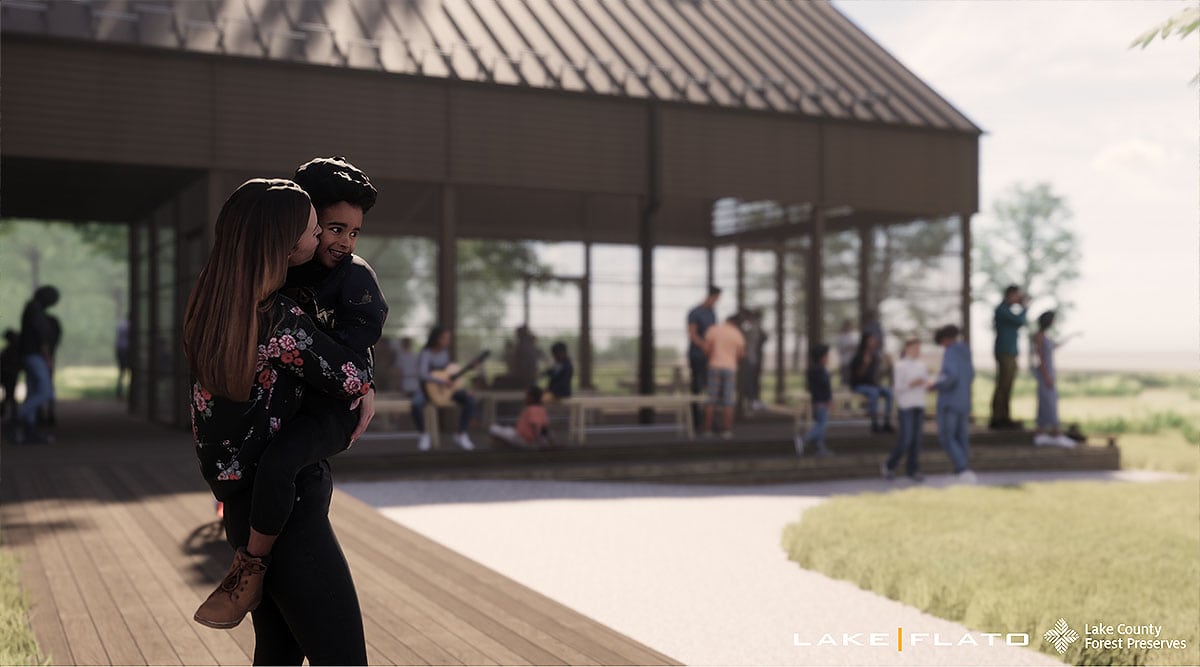 Facility Exterior Rendering with Renderpeople Mother & Child Model
Architectural Visualization Workflow
Lake|Flato uses a variety of design and documentation tools, with the primary applications being Revit, Rhino, and SketchUp. Enscape, a real-time rendering, and VR tool work with all three of these applications. The visualization workflow is so streamlined and easy to use that 80% of the design staff perform their own work in an activity previously done by specialists. Also worth noting, other than adding the firm and client logos, none of the images in this article have any post-processing (i.e. Photoshop additions or modifications).
" Working on Lake|Flato's first Passive House certified project has been an amazing experience – this is definitely a special project for the firm and one that will hopefully set an example of what's possible when we work alongside an amazing client to holistically push the boundaries of design performance. Aiming for Passive House has made so many things about this building and design process unique; it's been all the more important to rely on advanced modeling and representation in Revit and Enscape to accurately portray the character of this unique building and context, including representing the end-users of the building in a real and honest way."
Schaffhauser, AIA, LEED AP BD+C, Project Director, Lake|Flato Architects
Design staff often work with Enscape open during the design process and walk clients through the project in a live real-time rendered model or VR headset. The workflow even leverages artificial intelligence (AI) through NVIDIA's deep learning super sampling (DLSS) on the Quadro RTX 5000 graphics cards found in the Dell Precision workstations; a typical configuration for all staff (learn more in this Dell blog post: Designing From the Home Office).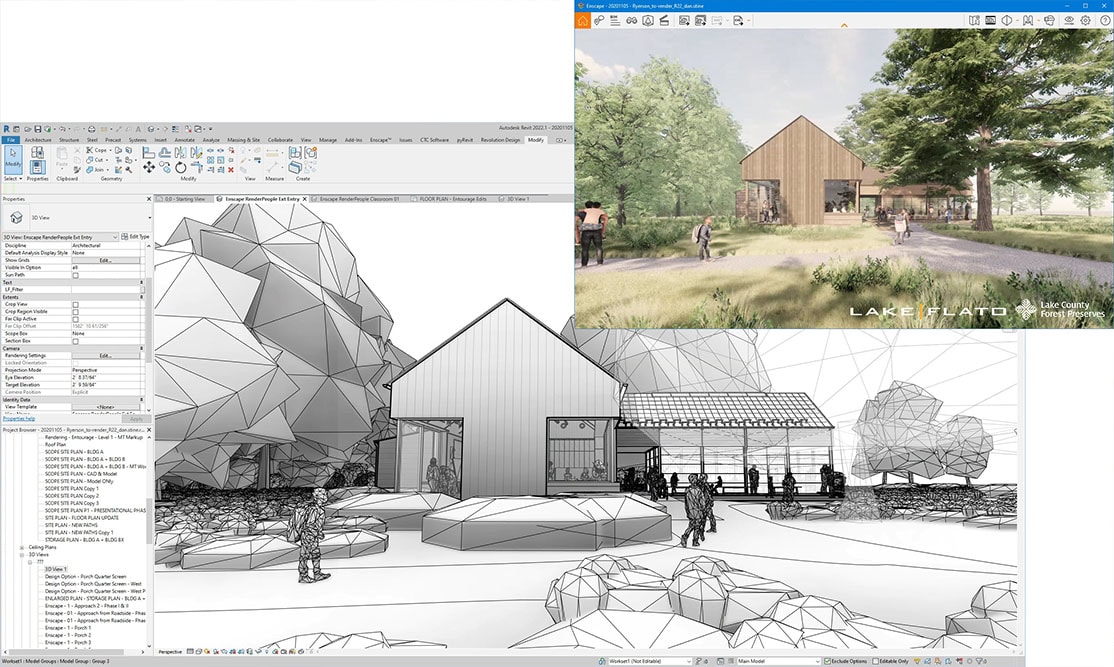 Enscape Project Viewport Example
Using 3D People to Populate Enscape Visualizations
While our primary visualization platform includes a wealth of assets, including people, vehicles, vegetation, etc. to bring spaces to life, there are always situations and project features which require additional content to be sourced. Renderpeople has proven to be an invaluable resource for high-quality 3D people models in various poses, performing many activities, and offers enhanced diversity as highlighted in the image below.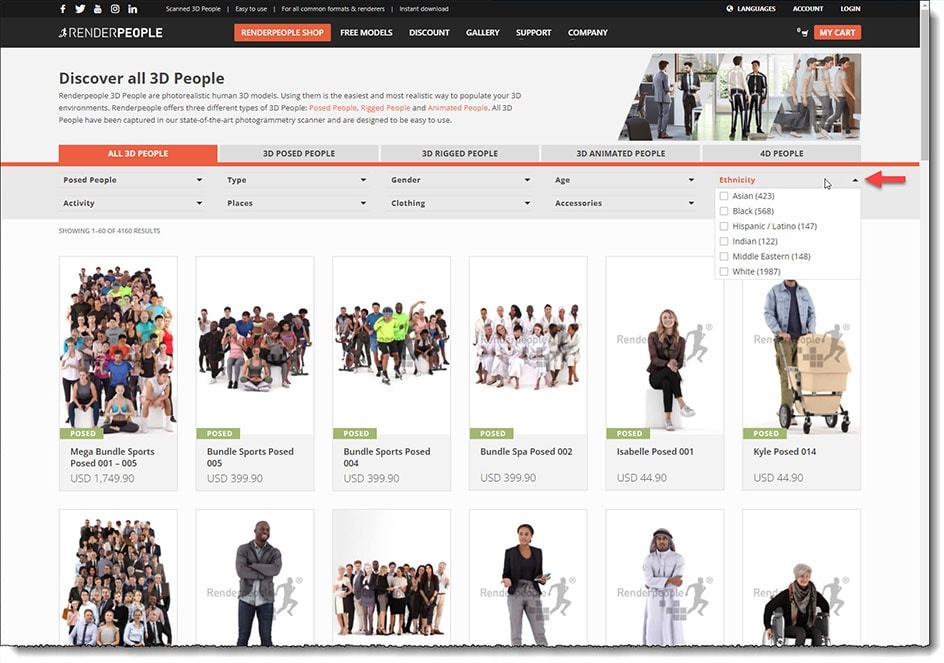 Renderpeople 3D People Shop Filter Overview, Renderpeople.com
To use Renderpeople's 3D People models in Enscape, some processing of the content is done to optimize performance within a real-time rendering environment. This includes decimating the geometry and creating generic placeholder models (i.e. the object seen in Revit, Rhino, or SketchUp) using an open-source tool called Blender. All the custom Enscape assets are centrally located on the firm's server, giving everyone access to the content; which is also important for visual fidelity when various project team members open the model and want to view the project in Enscape. The image below shows the processed/optimized content in the Enscape Asset Library.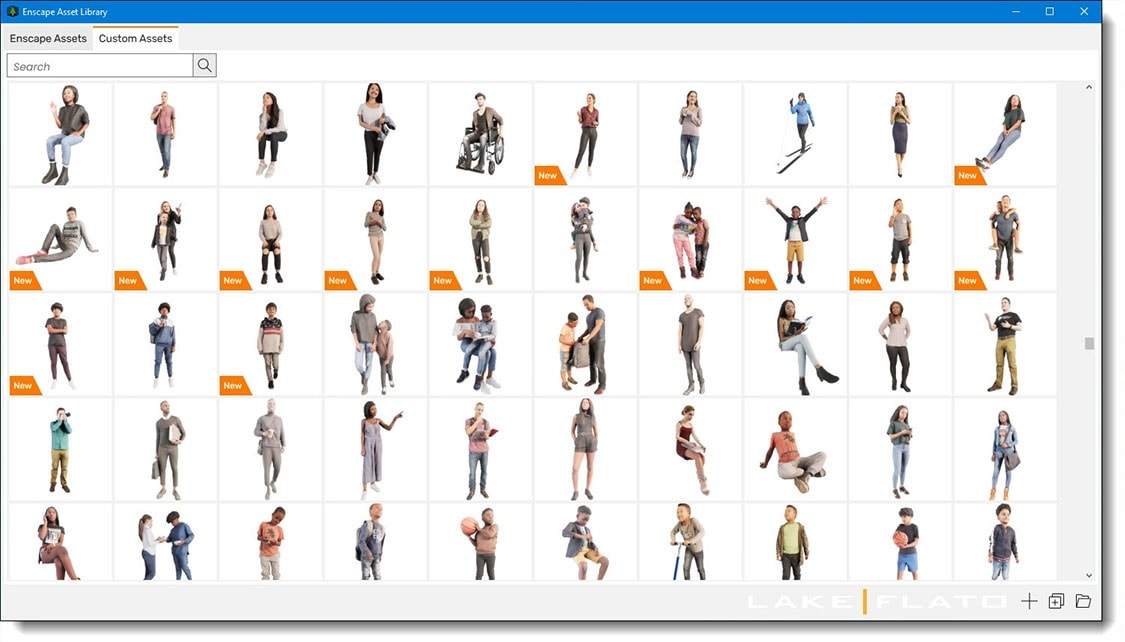 Renderpeople 3D People in Enscape Asset Library
The render result is a high-quality entourage that performs well in real-time and VR environments. Still, images may be further refined using Enscape's field and depth of view settings, making some of the content slightly blurry with an emphasis on the instructors in the example below.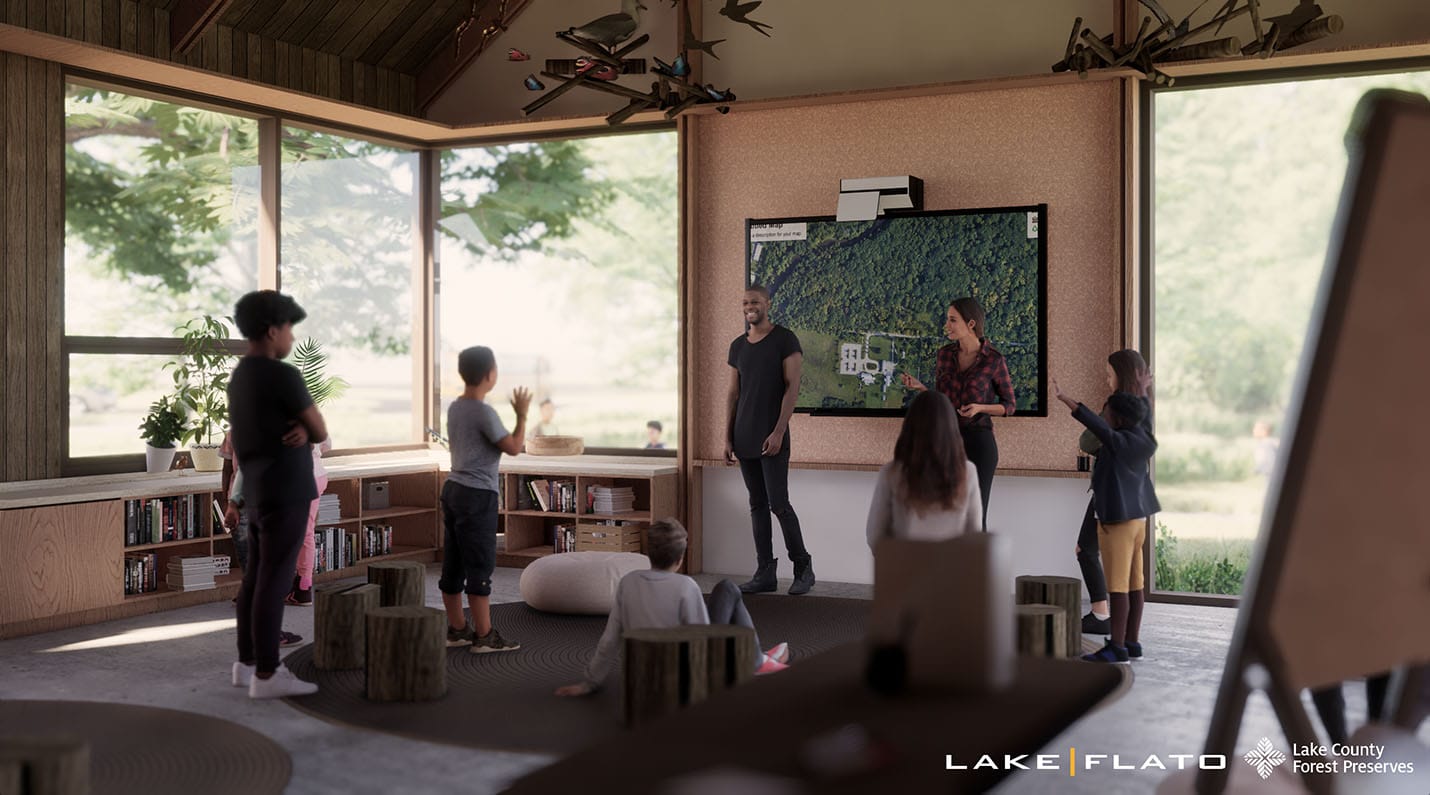 Facility Classroom Visualization
Additional Enscape Renderings
Below are several additional renders of the project, with captions. Since all the content and entourage are hosted within the building information model (BIM) it is easy to explore all aspects of the project and export way too many rendered views!
Close-Up Renderings
Conclusion – Using Renderpeople 3D People for Enscape Visualizations
Amid the challenges we face, as a society and a planet, it is refreshing to see a project which aims to educate the community on the environment, use minimal energy in a cold climate, and create a safe and inclusive experience in an aesthetically pleasing building.
The Renderpeople content aids in conveying this design intent through the architectural visualizations which are shared with the client, stakeholders, donors, and the public.
---
About Lake|Flato


lakeflato.com | Vimeo | Instagram | Facebook | LinkedIn | Twitter
Lake|Flato Architects has gained national recognition for architecture that is rooted to its place and successfully merges with the landscape. In collaboration with our clients, Lake|Flato creates buildings that are tactile and modern, environmentally responsible and authentic, artful and crafted.
Lake|Flato's architecture shapes collaborative environments and catalyzes users to think creatively, work with peers in interdisciplinary ways, apply knowledge, and share this created content with their community and the world. The firm's 13 AIA Committee on the Environment (COTE) Top Ten Awards, Living Building and Passive House certified projects, and numerous LEED Platinum and Gold-certified buildings attest to our passion for an architecture that thoughtfully engages and enhances its place.